When:
Thursday, November 7, 2019 -

7:00pm

-

9:00pm
Presenter:
Molly Reynolds, PhD - Senior Fellow, Brookings Institution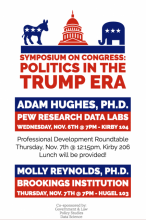 "Oversight in the House of Representatives in the 116th Congress"
When they assumed a majority in the House in January, Democrats promised to undertake oversight of President Trump and the executive branch. Where does their power to do so come from and how have their efforts played out so far? Molly Reynolds, Senior Fellow in Governance Studies at the Brookings Institution, will explore these questions and what the House's oversight activities mean for the unfolding impeachment inquiry.
Light refreshments will be available.
Sponsored by:
Government & Law, Policy Studies, and Data Science