When:
Friday, November 8, 2019 - 10:00pm
-
Saturday, November 9, 2019 - 1:00am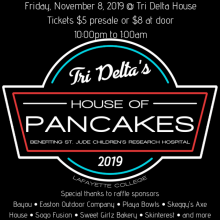 Join Tri Delta for our annual unlimited pancake meal, cosponsored by Delta Tau Delta! Presold tickets will be $5 and tickets at the door will be $8 and all proceeds will go to St. Jude Children's Research Hospital and JDRF. The event will have unlimited food, raffle prizes, and live music!