When:
Wednesday, October 9, 2019 -

4:30pm

-

6:15pm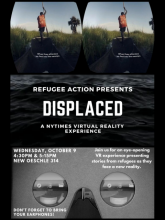 Come join us for a virtual reality experience Wed. Oct. 9th! Bring some earphones and we'll provide the VR goggles to experience a new way of learning about the challenges that refugees face. 
Come at 4:30 or 5:15! (Same program, just spreading out the use of the goggles.)
Also follow Refugee Action (@LafRefAct) on Instagram to hear about exciting events!