When:
Thursday, November 21, 2019 -

12:10pm

-

1:00pm
Where:
Gendebien Room, Second Floor of Skillman Library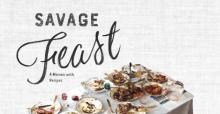 Boris Fishman will read from and discuss his new book, Savage Feast: Three Generations, Two Continents, and A Dinner Table: A Memoir With Recipes. The event will include Ukrainian food, catered by Black Forest Deli in Bethlehem.  Please arrive early to get food!
Fishman was born in Minsk, Belarus, and immigrated to the United States in 1988 at nine. His journalism, essays, and criticism have appeared in The New Yorker, The New York Times Magazine and Book Review, The New Republic, The London Review of Books, The Wall Street Journal, The Guardian, Travel & Leisure, New York Magazine, and other publications. His first novel, A Replacement Life (HarperCollins), was a front-cover review in The New York Times Book Review: "Is there room in American fiction for another brilliant young émigré writer? There had better be, because here he is." His second novel, Don't Let My Baby Do Rodeo, about a New Jersey couple that adopts a boy from Montana who turns out to be wild, was also a New York Times' Notable Book of the Year (2016) and has received raves from several outlets. Boris teaches in Princeton University's Creative Writing Program. HarperCollins has just published his next book, Savage Feast.
A revealing personal story and family memoir told through meals and recipes, Savage Feast begins with Boris's childhood in Soviet Belarus, where good food was often worth more than money. He describes the unlikely dish that brought his parents together and how years of Holocaust hunger left his grandmother so obsessed with bread that she always kept five loaves on hand. She was the stove magician and Boris' grandfather the master black marketer who supplied her, evading at least one firing squad on the way. These spoils kept Boris' family — Jews who lived under threat of discrimination and violence — provided-for and protected.
Despite its abundance, food becomes even more important in America, which Boris' family reaches after an emigration through Vienna and Rome filled with marvel, despair, and bratwurst. How to remain connected to one's roots while shedding their trauma? The ambrosial cooking of Oksana, Boris's grandfather's Ukrainian home aide, begins to show him the way. His quest takes him to a farm in the Hudson River Valley, the kitchen of a Russian restaurant on the Lower East Side, a Native American reservation in South Dakota, and back to Oksana's kitchen in Brooklyn. His relationships with women — troubled, he realizes, for reasons that go back many generations — unfold concurrently, finally bringing him, after many misadventures, to an American soulmate.
Savage Feast is Boris' tribute to food, that secret passage to an intimate conversation about identity, belonging, family, displacement, and love.
Sponsored by:
Religious Studies, Jewish Studies, Hillel, the Berman Center for Jewish Studies
Contact information
Link for More Information: