When:
Wednesday, October 23, 2019 (All day)
-
Saturday, November 23, 2019 (All day)
Where:
Grossman Gallery, Williams Visual Arts Building, 243 North Third St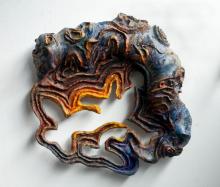 Oct 23–Nov 23
Informed by the historical lineages of surrealism, Kim Altomare's painted relief works use psychological reflexivity to reveal unconscious formulations of the self in the form of biomorphic abstraction. Finding pleasure through material play and process, Altomare creates work that revels in confusing the lines between painting and sculpture, social and personal, and high and low. Boundaries between drawing, painting, and relief sculpture dissolve, and haptic sensation seeps up to the surface.
Artist's Talk & Reception
Monday, Oct 28, 4:15 p.m., Grossman Gallery
Altomare is the inaugural recipient of the Yale University School of Art Residency at Lafayette College.
image: Kim Altomare, Head
Sponsored by:
Lafayette Art Galleries, Department of Art
Contact information
Link for More Information: