When:
Tuesday, September 3, 2019 (All day)
-
Sunday, December 15, 2019 (All day)
Where:
Williams Center Gallery, 317 Hamilton Street, Easton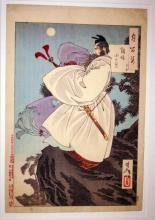 Twenty-four woodblock prints by Tsukioka Yoshitoshi (1839–1892)—widely recognized as the last master of Ukiyo-e, a genre of woodblock prints and paintings that flourished in Japan from the 17th through 19th centuries—showcase the artist's superb skill and imagination.
Yoshitoshi lived at a time when Japan began to embrace western culture's modernity and mass production; witnessing the new cultural influx, Yoshitoshi realized the loss of Japanese values and strove to preserve traditional art forms. All of the polychrome woodblock prints on view are based on Chinese and Japanese folktales and history, and the stylized classical dance Kabuki. Known for his creativity in depicting these subjects, Yoshitoshi presented the pinnacle moment of action in his prints. This exhibition, organized by the Taubman Museum of Art (Roanoke, Va.), presents the artist's most representative and well-known series: New Forms of Thirty-Six Ghosts, One Hundred Aspects of the Moon, A Mirror of Strange Tales from China and Japan, and Twenty-Eight Famous Murders with Verse.
Sponsored by:
Lafayette Art Galleries; Department of Art,
Contact information
Link for More Information: