When:
Monday, November 18, 2019 -

4:30pm

-

6:00pm
Where:
Skillman Library, Gendebien Room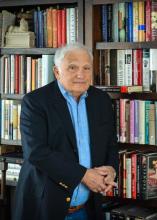 Monday, November 19 at 4:30PM
Gendebien Room, Skillman Library
The 2019 Paul and June Schlueter Lecture on the Art & History of the Book will feature Nicholas Basbanes, author of several acclaimed books on the history of the book.  Basbanes will be speaking about the history of papermaking and his book On Paper: The Everything of Its Two-Thousand-Year History, in conjunction with Skillman Library's fall exhibit of artist's paper.  The lecture will take place on Monday, November 18 at 4:30 p.m. in Skillman's Gendebien Room.  
Nicholas A. Basbanes is the author of nine critically acclaimed works of cultural history, with a particular emphasis on various aspects of books and book culture. His first effort, A Gentle Madness: Bibliophiles, Bibliomanes, and the Eternal Passion for Books (1995), was a finalist for the National Book Critics Circle Award for nonfiction, and was named a New York Times Notable Book. In 2015, Basbanes was awarded a Public Scholar research grant by the NEH in support of Cross of Snow, a dual biography of Henry Wadsworth Longfellow and his wife, Fanny Appleton Longfellow, to be published early next year by Alfred A. Knopf.  He also writes the "Gently Mad" column for Fine Books & Collections magazine, lectures widely on book related subjects, and is a frequent contributor to Humanities magazine. This coming March, the Cushing Memorial Library & Archives of Texas A&M University, which in 2015 acquired Basbanes's literary archive and significant components of his personal library, will mount an exhibition commemorating the twenty-fifth anniversary of the publication of A Gentle Madness.  
On Paper, which Basbanes calls "a cultural history that takes in the full sweep of this remarkably versatile material, and discusses the impact it has had on the shaping of history," was named a best book of 2014 by Mother Jones, Bloomberg News, National Post, and Kirkus Reviews.  Booklist magazine described On Paper as "a celebration of paper ... engrossing and thought-provoking, leading up to the dramatic conclusion, in which Basbanes recounts deeply affecting stories about the "paper rain" that covered New York City on 9/11. Paper, Basbanes avers, is nothing less than an embodiment and conveyance of humanity."  The Lafayette Libraries are fortunate to own a wonderful collection of handmade artists' papers which will be displayed in the Simon Room this fall, making a wonderful complement to this year's Schlueter Lecture.