When:
Wednesday, September 4, 2019 -

12:00pm

-

1:00pm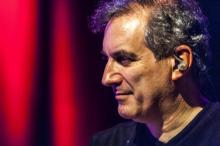 Historian, technologist, and musician 
Larry Fast
 '73 will 
lead us on a journey from the earliest widespread adoption of electronics in the mass culture in the 1830s-1840s through the transition to digital electronic music, dipping into electronic technology advances that moved the musical arts forward as it influenced him as an artist and technologist. This lecture will touch on the 19th century physicist Helmholtz, as well as such luminaries as: Tesla, Theremin, Claude Shannon, and Peter Gabriel, among others. S
amples from Larry Fast's own music will also be played. This event is free and open to the public. Larry Fast has recorded dozens of albums and CDs as the principal musician in addition to his contributions to the live and studio music of Peter Gabriel, Tony Levin, and many others. Pizza served while it lasts.