When:
Wednesday, July 24, 2019 -

12:00pm

-

1:00pm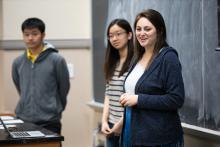 PLEASE JOIN US!
 WEDNESDAY, JULY 24:
STUDENT RESEARCH PRESENTATIONS
12:00  – 1:00 PM
104 KIRBY HALL
PIZZA WILL BE SERVED
(UNTIL SUPPLIES LAST)
Join us for a research talks by Lafayette students.  A panel of students will share their summer research projects with us – the goals, their roles and responsibilities, expected or obtained results, and future directions. Come learn, share, and ask about research at Lafayette!
Student Presenters: 
Yue Wu ('20; Civil and Environmental Engieering/Mathematics); Emily Ross ('22; Chemical Engineering): "An Innovative Method of Nutrient Recyling from Wastewaters"
Sijia Du ('20; Math and Economics, double major); "A One-Dimensional Probabilistic Packing Problem"
Emily Lugos ('20; Chemistry with a minor in English); "Density Functional Theory Investigation of Brown Carbon Species in Aqueous Aerosol Mimics"
Mirana Randriamanantsoa (21'; International Affairs and Government & Law); "1) Transcription of an interview with a French Poet 2) The role of Radio in helping minority languages to survive in France post 1950, and 3) Looking at Maoism in France"
Sarah Miller ('21; Biochemistry); "The effect of amino acid composition on the requirements for J-proteins by artificial prions"
HOPE TO SEE YOU THERE!
Sponsored by the Office of the Provost