When:
Tuesday, July 2, 2019 -

12:00pm

-

1:00pm
Price:
We each pay for our own lunch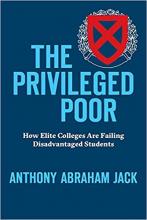 We are going to be discussing The Privleged Poor, How Elite Colleges Are Failing Disadvantaged Students by Anthony Abraham Jack. The only guideline for book club is you need to bring at least one question or talking point each. All are welcome.