When:
Friday, June 7, 2019 (All day)
-
Saturday, August 3, 2019 (All day)
Where:
Grossman Gallery, Williams Visual Arts Building, 243 North Third St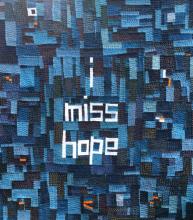 Using improvisational variations of common patchwork quilt forms, Chawne Kimber engages viewers in conversation about issues of identity, difference, and social justice.
 Chawne Kimber: Cottoning On,
June 7-July 27, 2019 - extended to August 3
Grossman Gallery, Williams Visual Arts Building, Lafayette College, 243 North Third Street, Easton. PA 18042,

Chawne Kimber is an award winning textile artist who exhibits quilts and embroidery in museums, galleries, and festivals in all over the United States.
Through cultivation of cotton in rural Alabama, some of her ancestors (unwillingly) participated in building the United States. Cotton has been central in the lives of the women of Chawne's family--from picking to ginning to sewing, with quilting emerging as the main mode of self-expression available. Patchwork was sewn from worn denim and calico clothing and layered with the discarded cottonseed and fluff from the gin houses for insulation to make quilts.
Inspired by quilts made by these ancestors in the late 1800s, Chawne interprets traditional patchwork forms in an improvisational style using vibrant modern colors of commercially available all-American farmed, processed and woven cotton. Some of her designs are geometric romps that emphasize the complex forms of negative space that naturally arise, while others utilize unusually small scaling to exaggerate shapes and tonal sequences. Using the quilt medium to respond to current race-related social justice issues, Chawne also indulges in political confrontations in quilt form.
When not manipulating cotton, Chawne is a professor of mathematics at Lafayette.
Check the galleyr website for up-to-date information on workshops and additional progmans.
Sponsored by:
Lafayette Art Galleries, Karl Stirner Arts Trail
Contact information
Link for More Information: