When:
Wednesday, March 20, 2019 -

8:30am

-

12:00pm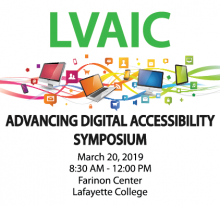 LVAIC Advancing Digital Accessibility Symposium
How do you know that your digital materials can be read by someone who has a visual disability? Will hearing impaired people be able to hear the video that you posted on your department's website?
Fortunately, there is still time to register for the LVAIC Advancing Digital Accessibility Symposium that is being held next week in Farinon College Center.
 The symposium seeks to create a forum in which to address the challenges of providing digital accessibility across campus. The event is geared toward people with an interest or responsibility for digital accessibility.
The keynote address "Making Accessibility a Priority" by accessibility expert Keith Bundy will review some of the basics of accessibility and of compliance with the WCAG 2.1 guidelines. He will demonstrate the use of a screen reader in browsing the web and conclude with suggestions for making accessible design a priority within an institution.
Following the keynote, Swarthmore College's Technology Accessibility Coordinator Corrine Schoeb, and Librarian for Electronic Materials, Jessica Brangiel, will discuss their college's grassroots efforts to address the systematic challenge of accessibility.
A Q and A and wrap-up discussion will round out the symposium.
Please register today at the following link:
https://lvaic.org/event/lvaic-advancing-digital-accessibility-symposium

/
Sponsored by:
Lafayette College Accessibility Working Group
Contact information
Link for More Information: