When:
Tuesday, April 16, 2019 -

7:30pm

-

8:30pm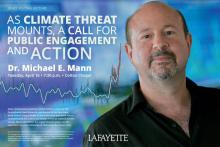 Dr. Mann, Distinguished Professor of Atmospheric Science at The Pennsylvania State University and director of the Penn StateEarth System Science Center (ESSC), is one of the most prominent voices in the country in communicating both the science and the seriousness of the threat of human-induced climate change.  In his lecture, titled "As Climate Threat Mounts, A Call for Public Engagement and Action," Mann will talk about climate change in the context of the current political landscape, and the importance of active citizenship in addressing the climate crisis.
Mann received his undergraduate degrees in Physics and Applied Math from the University of California at Berkeley, an M.S. degree in Physics from Yale University, and a Ph.D. in Geology & Geophysics from Yale University. His research involves the use of theoretical models and observational data to better understand Earth's climate system. He has received a number of honors and awards including NOAA's outstanding publication award in 2002 and selection by Scientific American as one of the fifty leading visionaries in science and technology in 2002. He was awarded the Hans Oeschger Medal of the European Geosciences Union in 2012 and was awarded the National Conservation Achievement Award for science by the National Wildlife Federation in 2013.  Mann has provided congressional testimony about the urgency of climate change, authored more than 200 peer-reviewed and edited publications, penned numerous op-eds and commentaries, and written four books.
The Thomas Roy and Lura Forrest Jones Visiting Lecture Series was founded by Trustee Emeritus Thomas Roy Jones in 1973 to provide Lafayette College students with the opportunity to hear presentations and interact each year with individuals of exemplary accomplishment in the academic world or in public life. Past Jones Visiting Lecturers have included such figures as Derek Walcott, Ursula LeGuin, Henry Lewis Gates, Susan Sontag, Francis Fukuyama, Simon Schama, Stephen Sondheim, Jane Goodall, Elizabeth Kolbert, Sarah Vowell, Amitav Ghosh and Kwame Anthony Appiah. The lectures are free and open to the public.