When:
Thursday, April 4, 2019 -

12:00pm

-

1:00pm
Where:
Gendebien Room, Skillman Library
Presenter:
Brent D. Glass '69, Director Emeritus of the Smithsonian's National Museum of American History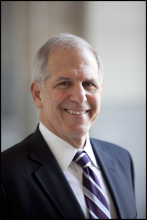 The new Queer Archives Project at Lafayette College joins a growing number of important collections and historic sites around the country that are preserving and presenting the history of LGBTQ Americans.  The courageous struggles of pioneers such as Frank Kameny in Washington, DC, the protesters at Stonewall Inn in New York City and Pennsylvania native Bayard Rustin are now recognized as turning points in civil rights history.  Their legacy is inspiring new generations to tell their story through oral histories, historic preservation, publications and collecting initiatives.
Lunch will be provided.
Brent D. Glass '69 is Director Emeritus of the Smithsonian's National Museum of American History, the world's largest museum devoted to telling the story of America. A national leader in the preservation, interpretation, and promotion of history, Glass is a public historian who today provides management and consulting services to museums, historical organizations, and cultural institutions throughout the United States and in other countries. His most recent book, 50 Great American Places (Simon and Schuster, 2016), explores the power of essential historic sites and how they illuminate core themes in American history.   
Since 2012, Glass has served as a senior advisor to more than 50 cultural and educational institutions including the Presidio Trust in San Francisco, the Abraham Lincoln Presidential Library Foundation in Illinois, the Diplomacy Center in Washington, DC and Alexander Hamilton's First Bank and Drexel University in Philadelphia.  He is currently working with several museums under development including the National Railroad Hall of Fame in Galesburg, Illinois, and the Sing Sing Prison Museum in Ossining, New York.  
As director of the National Museum of American History (2002-2011) Glass led a two-year, $120 million renovation and the development of major exhibitions including the Star-Spangled Banner and permanent galleries on transportation, military, and maritime history.  The museum now features innovative public programs, living history performances, and new theaters for films, lectures, and concerts. Since reopening in 2008, more than 30 million people have visited the museum, a 50% increase over previous years and the Museum's web site and social media sites have grown in popularity.  
Sponsored by:
College Archives; Women's & Gender Studies