When:
Friday, February 22, 2019 (All day)
-
Saturday, May 11, 2019 (All day)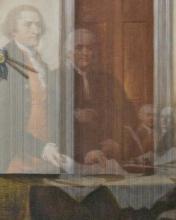 Using well-known history paintings, such as Jacques-Louis David's Coronation of Napoleon and John Trumbull's Declaration of Independence, as a point of departure, Čedomir Vasić takes his audience on an exciting journey punctuated by intense aesthetic experiences, optical illusions, and a multiplicity of ideas, questions, and emotions.
In Vasić's work, contemporary technologies modify and empower the reception and perception of historical events. The artist uses photo-editing software to remove all figures from the depicted events. Devoid of human content, Vasić's doctored images are stripped of their intended meaning and significance; only decorative and deceptively simple interiors or landscapes remain. Vasić combines the altered and the original images using a lenticular printing process; when viewed from different angles, the visuals appear to change, rendering images that are simultaneously present and absent.
December Noon in the Cathedral, 2018
Guest curator and essayist Ida Sinkević is Professor of Art History, Lafayette College
Lafayette Art Galleries and Collections receives financial support from the Pennsylvania Council on the Arts, a state agency funded by the Commonwealth of Pennsylvania, and the National Endowment for the Arts, a federal agency. Additional support for Čedomir Vasić, Mutable Images, Shifting Vision was provided by Lafayette College through the R.K. Laros, Class of 1914, Memorial Fund, the Max Kade Haus for German Studies and Visiting Scholars, and academic departments and programs.
Sponsored by:
Lafayette Art Galleries; Department of Art, Russian and East European Studies
Contact information
Link for More Information: