When:
Friday, February 8, 2019 (All day)
-
Saturday, April 13, 2019 (All day)
Where:
Grossman Gallery, Williams Visual Arts Building, 243 North Third St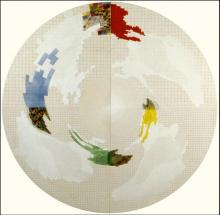 The paintings in this exhibition, made between 1996–2018, reflect Pedro Barbeito's interest in how technology and scientific innovation have informed art history and visual culture. By merging past and present forms of image making practices and genres he attempts to expand the semiotics of space while reflecting the complexity of contemporary culture. These pieces, selected from five of the different series he has worked on over twenty-two years, present a range of merged themes: sixteenth century landscape painting with video game landscapes; news media images with Golden Age comic books; scientific imagery with Conceptual Art practices; Cubism with digital editing software; Zero Group strategies with imagery and architectures derived from cosmology and particle physics. 

Pedro Barbeito is assistant professor of art and director of Lafayette's Experimental Printmaking Institute (EPI), joining the faculty in fall 2017.  
Contact information
Link for More Information: