When:
Tuesday, September 4, 2018 (All day)
-
Saturday, November 17, 2018 (All day)
Where:
Grossman Gallery, Williams Visual Arts Building, 243 North Third St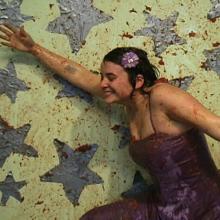 Kate Gilmore is an artist who synthesizes multiple mediums including performance, video, sculpture, and painting. Kate Gilmore: In Your Way features ten works—nine performance-based videos and one live performance/sculptural installation that invites audience participation and that was commissioned by the Museum. Gilmore's videos focus on herself or several women, wearing stereotypical feminine clothing and footwear while persistently performing difficult, labor-intensive tasks within self-constructed spaces.
This exhibition was organized by the Bates College Museum of Art, Lewiston, Maine
Meet the Artist, Monday, September 24, 4:10 p.m., Grossman Gallery, Reception to follow
Contact information
Link for More Information: