When:
Tuesday, September 4, 2018 (All day)
-
Saturday, December 15, 2018 (All day)
Where:
Williams Center Gallery, 317 Hamilton Street, Easton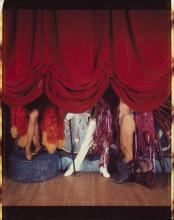 William Wegman: Instant Miami
September 4—December 8
In 1984 William Wegman and the Polaroid 20 x 24 camera traveled to Miami. Commissioned by the Lowe Art Museum "to see, to react, not to document" the city, Wegman spent a week exploring Miami with this cumbersome and conspicuous camera and its accompanying crew capturing life as he saw it, a surreal performance of the everyday and the extraordinary.  Performers from the famous Les Violins Supper Club suddenly appear on the beach alongside sunbathers, everyday Miamians display their window shades, babies perform with showgirls.
A companion exhibition, William Wegman Photographs, at Skillman Library will showcase a series of black-and-white 20 x 24 Polaroids, a selection of recent work with modernist furniture, and the limited edition artist's book Field Guide to North America and to Other Regions.
Artist's Talk & Reception: Thursday, October 114:10–6:00 p.m. Talk: Gendebien Room, Skillman Library; Reception and book-signing to follow at the Williams Center for the Arts
 William Wegman and John Reuter in Conversation:.Monday, October 294:10–6:00 p.m.; Talk: Williams Center for the Arts, Room 108 Reception to follow. Photographer John Reuter worked with Wegman on nearly all of his Polaroid projects, including "Instant Miami." Reuter is director of 20x24 Studio, home of a rare 20x24 Polaroid camera.
Sponsored by:
Lafayette Art Galleries & Skillman Library
Contact information
Link for More Information: