When:
Wednesday, November 14, 2018 -

12:00pm

-

1:00pm
Where:
Gendebien Room, Skillman Library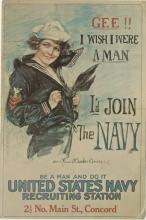 To commemorate the 100th anniversary of Armistice Day and the cessation of hostilities on the Western Front during WWI, Skillman Library's Special Collections is featuring an exhibition of posters by American magazine and book illustrator Howard Chandler Christy this fall in the Simon Room. Christy created over forty recruitment, bond sale, and service organization posters for the the U.S. Division of Pictorial Publicity during the war.
This illustrated talk will demonstrate how the artist capitalized on stereotypical gender roles in his posters and adapted his idealized American beauty, the Christy Girl, to inspire self-sacrifice on the home front and entice thousands of young men to enlist.
Lunch will be provided.
Sponsored by:
Friends of Skillman Library