When:
Thursday, October 4, 2018 -

7:00pm

-

8:30pm
Where:
Oechsle Center for Global Education (OCGE) 107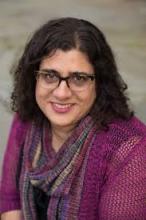 Albright College Religious Studies professor Samira Mehta will give a talk about her recent book, Beyond Chrismukkah The Christian-Jewish Interfaith Family in the United States:
"Almost everyone in the United States knows an interfaith family of some sort, and most of us have relatives raised in other traditions than we were. How is this development understood and regarded by Americans generally, and what does it tell us about the nation's religious life? In this talk, Professor Samira K. Mehta focuses on the interfaith family that has most animated the American imagination since the 1960s, the Christian-Jewish interfaith family. Drawing on her ethnographic and historical research, she analyzes family members' experiences, religious guidance, and popular culture surrounding mixed marriages among Jews, Catholics, and Protestants. 
Over the past fifty years, interfaith families have been depicted, derided, and praised on popular TV shows, holiday cards, humorous guides to "Chrismukkah," and religious and secular advice manuals. The emergence of multiculturalism generated new terms by which interfaith families felt empowered to shape their religious practices. Examining the stories of families practicing multiple religions together at home, and their representations in popular culture, helps us understand how religion functions in our increasingly diverse contemporary American society."
Sponsored by:
Office of Religious & Spiritual Life, Jewish Studies, Religious Studies, Hillel, Newman Association, Young Life, DiscipleMakers, and the Philip and Muriel Berman Center for Jewish Studies at Lehigh University