When:
Wednesday, May 9, 2018 (All day)
-
Friday, May 18, 2018 (All day)
Where:
Ahart Plaza underneath Buck Hall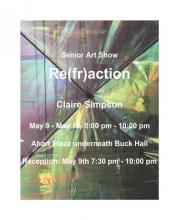 Re(fr)action is an interactive art installation exploring color and light created by senior Claire Simpson. The installation will be open to the public May 9th to May 18th from 8:00 pm to 10:00 pm.
The Opening Reception is May 9th from 7:30 pm to 10:00 pm. There will be food and music.
Sponsored by:
Clair Simpson and Art Dept