When:
Friday, April 20, 2018 - 5:00pm
-
Sunday, April 22, 2018 - 12:00pm
Where:
MAX KADE CENTER FOR GERMAN STUDIES - 429 Pardee Hall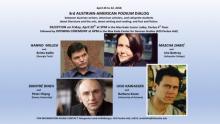 Four Austrian writers are visiting Lafayette College between April 20 and 22 to take part in the 3rd Austrian-American PODIUM Dialog (AAPD): Mascha Dabić, Dimitré Dinev, Udo Kawasser, and Hanno Millesi.
Opening Reception and Remarks: Friday 5PM-6PM

Gabriele Petricek, award-winning Austrian writer of short fiction and 2010 Max Kade writer-in-residence at Lafayette College, together with Margarete Lamb-Faffelberger, Professor of German and Director of the Max Kade Center for German Studies, developed the concept for the Austrian-American PODIUM Dialog. The symposium brings together four Austrian writers with four German Studies scholars - Ute Bettray (Lafayette), Britta Kallin (Georgia Tech), Barbara Kosta (U of Arizona), and Peter Höyng (Emory U). Each scholar, assigned to an author, offers a presentation that follows the reading by the author. Lafayette students, who have studied each author's texts throughout the semester, lead group discussions with authors, scholars, and the audience. The general motto of the Austrian-American PODIUM Dialog is "Passages" with different subtitles for each symposium: "Crossings" in 2013, "Borders" in 2015, and "Openings" in 2018.
Sponsored by:
Max Kade Foundation, Dept of FLL, Provost Office, Austrian Ministry of Foreign Affairs, Grazer Autorinnen Autorenversammlung, Publication LICHTUNGEN (Graz), Cultural Office of Lower Austria and City of Vienna, Austria
Contact information
Name:
Margarete Lamb-Faffelberger
Phone:
001 610 905 3824 or x5255
Link for More Information: