When:
Saturday, January 28, 2012 -

12:00pm

-

1:00pm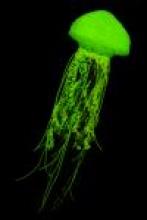 Greco will discuss the methods behind her crochet and knit sculptural work including crocheting on a traffic cone, knitting on tree bark, the development of a new yarn, and other unique applications of knitting and crochet. Get a new perspective on knitting and crochet! There will be sticks, hooks, and books giveaways and door prizes!
She will also talk about the one-of-a-kind, innovative "jelly yarn" she created, including the glow-in-the dark Jelly yarn that glows under black light.
Lecture presented in conjunction with "Sticks, Hooks, and the Mobius" exhibition of math- and science-inspired knit and crochet.
Contact information
Link for More Information: