When:
Wednesday, March 21, 2018 -

4:10pm

-

5:15pm
Where:
Williams Center 108 (317 Hamilton Street)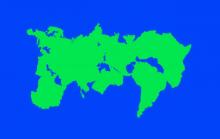 Curator Julia Buntaine's curator's talk about the Grossman Gallery exhibition, "Hypothetically," orignally scheduled for March 21, has been rescheduled to Monday, April 2, noon, at Williams Visual Arts Building
Collaboration between the arts and sciences is a popular notion that has evolved far beyond a buzz word.  Artists are often the champions of the charge for cross-disciplinary work because they are free to take risks which others may deem improbable, irresponsible, or impossible. Walking the lines of the allowable in bioethics and the possible in technology, "Hypothetically" presents artists that create work which propose experiments, initiatives, and solutions to persistent issues, from the level of the microbe to the whole of the planet.
Artist's include Kathy High, Jonathon Keats, and Raphael Kim.
Living with Crohn's disease, Kathy High has a personal interest in fecal microbial transplants--the transplanting of fecal material from a healthy person to another person's unhealthy bowels. Her series of photographs, Kathy as Bowie raises questions about the future of humans as biological and mechanical transplants become easier to accomplish and integrate: what percentage of our own cells need to be present for our bodies to remain our own? Can we become more like the person who provided the cell material?  
 Jonathon Keats likes to tackle issues big to small. In Pangaea Optima, Keats provides a solution to counter climate change by bringing us all—that is, our Earth's continents—a bit closer together. Pangaea Optima proposes a migrating and merging of all continents into a super-continent, using geoengineering principles to solve the issue at the core of climate change: Pangaea Optima's proposal drastically changes the face of our planet—from continents entering entirely new climate zones to new-shared borders testing historically tenuous relationships. Through this project we are left to wonder if the only way to save our planet is to change it entirely, Keats' prints include a view of the merged continents along with depictions of how the continents will shift.
 Raphael Kim's Microbial Money casts microorganisms in the role of oracle to better predict the behavior of the economy. Kim pairs the unpredictable nature of biology with the fluctuating nature of the finance industry, proposing that we use nature, on the micro-level, to guide our decisions while navigating the macro-state of the economy. Microbial Money is not without scientific precedent, either; in 2015 scientists from The University of Austin, Texas, published a paper on analogous behaviors in advantageous stock trading and bacterial interaction.Kim's photographs put us in the moment of the micro-action but leaves out the specifics, letting our imagination wander in this fictional but recognizable reality.
Contact information
Link for More Information: