When:
Tuesday, February 13, 2018 -

7:00pm

-

10:00pm
Where:
Studio Theater, 248 North Third Street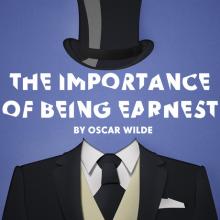 The Theater Department will hold open auditions for Oscar Wilde's classic comedy, The Importance of Being Earnest, beginning at 7:00 p.m. in the Studio Theater at 248 North Third Street. Casting 5 Men and 4 Women for the production, which will be presented in the Weiss Theater on April 20, 21, 26, 27, and 28 at 7:30 p.m. and on April 22 at 2:00 p.m. First performed in 1895 and delighting audiences around the world ever since, this perfectly crafted artifice of humor, described by its author as "a trivial comedy for serious people," is directed by Professor Michael O'Neill. Students auditioning should be familiar with the play and will be asked to do cold readings from Wilde's text. Those who have a talent for accents [British] and an adventuresome attitude towards cross-dressing are especially encouraged to audition. Cast members may enroll in THTR 120 for .25 credits.
Contact information
Name:
Professor Michael O'Neill
Link for More Information: