When:
Wednesday, November 15, 2017 (All day)
-
Sunday, December 10, 2017 (All day)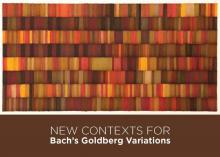 Easton artist Paul Deery was captivated by J.S. Bach's Goldberg Variations and  created a series of paintings inspired the Goldbergs.
Nine of the paintings can be seen in the lobby of the Williams Center, and are displayed in conjunction with a November 15 performance on the Williams Center  main stage, In New Work for Goldberg Variations, pianist Simone Dinnerstein brings her nuanced understanding of J.S. Bach's ambitious keyboard series together with rule-breaking choreographer Pam Tanowitz's witty and unflinchingly post-modern abstractions of classical and popular dance forms. Deconstructing formal and traditional movement vocabularies, New Work for Goldberg Variations converses with Bach's iconic score in a delightful interplay of rhythm, style, and idiosyncrasy, demonstrating the rich emotional world lying beneath the poised surface of the Goldbergs' musical architecture. Dinnerstein, whose chart-topping recording of the Bach is the definitive version of her generation, performs the demanding score live.
Contact information
Link for More Information: