When:
Monday, December 11, 2017 -

9:00am

-

10:30am
Where:
Van Wickle Hall, room 108
Presenter:
Lafayette College Technology Clinic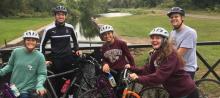 Getting Tails Back On The Trail: creating a culture of health and history on the D&L.
The Tech Clinic team, working on behalf of the D&L National Heritage Corridor and St. Luke's University Health System, will present the results of the fist-semester's study. They have been focusing on getting more people out using the D&L trail system, logging their miles and sharing information that can be used to measure the health efficacy of their activities.
Sponsored by:
Lafayette College Technology Clinic
Contact information
Link for More Information: