When:
Tuesday, September 12, 2017 (All day)
-
Saturday, December 9, 2017 (All day)
Where:
Grossman Gallery, Williams Visual Arts Building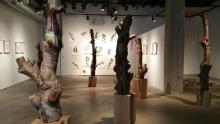 Sam van Aken transforms the Grossman Gallery into an orchard unlike any you've seen before. Amongst remnants of antique fruit trees and botanical drawings, the exhibition considers issues of agricultural and cultural preservation, and food security and diversity.
Streuobstwiese, van Aken's project to establish orchards of heirloom fruit trees, evolves out of van Aken's "Tree of 40 Fruit" projects in which heirloom orchards were preserved by collapsing them onto a single tree through the process of grafting. The Streuobstwiese (pronounced (strī-oːpst-vēzə), sixteenth-century German for "community-owned, meadow orchard," "explodes" the "Tree of 40 Fruit" to create an orchard of individual antique fruit trees. 
Due to numerous factors, including the rise of monocultures, the industrialization of agriculture, and a population that is increasingly losing contact with agriculture and the production of their food, we find our food sources becoming narrowed and homogenized with only a few different varieties of vegetables and fruits being industrially grown across huge swaths of the United States. Ultimately this poses not just a threat to the diversity of foods available on the table but is a major national security threat. The Department of Defense has identified the lack of food security as a threat to the country--for example, if the two or three varieties of each fruit and vegetable that are commercially grown contract a virus or fungus, which commonly occurs, it could devastate our food supply.
The Streuobstwiese aims to become the archive of these heirloom and antique fruits, preserving the genetic material by growing these trees so that if a disease devastates one of our fruit industries we will have the parent variety, the genetic material to replace or recreate it. 
At its best, art changes the way we look and act within the world. The Streuobstwiese attempts to change the way we see and be, how we engage and interact with that world. The Streuobstwiese is public art as a form of re-placemaking, a collection of un-contemporary practices addressing very contemporary concerns while generating metaphorical potentials.
Sponsored by:
Lafayette Art Galleries, Department of Art, Karl Stirner Arts Trail
Contact information
Link for More Information: