When:
Wednesday, September 20, 2017 -

7:00pm

-

9:00pm
Where:
Landis Cinema, William C. Buck Hall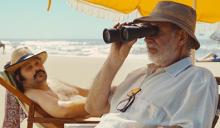 Come and participate in our annual series of award-winning films from Spain and Latin America.
MR. KAPLAN
Álvaro Brechner / Uruguay, Spain, Germany / 98 min / 2014 / Spanish with English subtitles 
Uruguay's official selection for Best Foreign Academy Award, Mr. Kaplan follows Jacob Kaplan's ordinary life in Uruguay. Like many of his other Jewish friends, Jacob fled Europe for South America because of World War II. But now, turning 76, he's become rather grumpy, fed up with his community and his family's lack of interest in their own heritage. One beach bar may, however, provide him with an unexpected opportunity to achieve greatness and recover his family's respect in the community: its owner, a quiet, elderly German, raises Mr. Kaplan's suspicion of being a runaway Nazi. Ignoring his family's concerns about his health, Jacob secretly recruits Contreras, a former police officer whose loyalty far exceeds his honesty, to help him investigate. Together, they will try to repeat the historic capture of Adolf Eichmann: by unmasking and kidnapping the German and secretly taking him to Israel. Rising filmmaker Álvaro Brechner's quixotic quest strikes plenty of comedic spark from its bone-dry humor, taking great delight in the reinvigorated ingenuity and pride of its aging protagonist.
Official Selection: Uruguay's Official Entry to the Academy Awards, Torino Film Lab, Cannes Cinefondation Atelier, Jerusalem Film Lab, and Nipkow Program.
SPONSORED BY: Intercultural Development, Foreign Languages & Literatures, Latin American & Caribbean Studies, and Film & Media Studies.
Contact information
Link for More Information: