When:
Thursday, October 19, 2017 -

4:10pm

-

5:30pm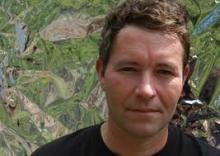 Sam van Aken will discuss his Grossman Gallery exhibition, Streuobstwiese (Old German for "community-owned meadow orchard")
Sam van Aken transforms the Grossman Gallery into an orchard unlike any you've seen before. With fruit trees removed from soil, exposing branch and root structure; van Aken's delicate botanical illustrations; sanded tree stumps that show the transition at the juncture of graft and trunk; and peach "whips"—young, bare-root trees with no branches—suspended from the ceiling, the exhibition considers issues of agricultural and cultural preservation, and food security and diversity.
Sam van Aken is the 2017 Detwiller Visiting Artist and the Karl Stirner Arts Trail Artist-in-Residence. Streuobstwiese is presented in conjunction with the Karl Stirner Arts Trail Tree of 40 Fruit project.
The talk will be followed by a reception for the artist at Grossman Gallery, Williams Visual Arts Building, 243 North Third Street, Easton. 
Note: The artist's talk is at the Williams Center for the Arts, 317 Hamilton Street, Easton.
Sponsored by:
Lafayette Art Galleries, Department of Art, Mellon Arts Infusion Grant
Contact information
Link for More Information: