When:
Thursday, October 5, 2017 -

7:00pm

-

9:00pm
Where:
WEISS THEATER, WILLIAMS ARTS CAMPUS
Presenter:
LAFAYETTE COLLEGE THEATER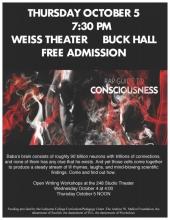 Fresh from the Edinburgh Fringe and Off-Broadway in New York, "Peer-reviewed rapper" Baba Brinkman explores the scientific study of consciousness in his latest hip-hop comedy.  Baba's brain consists of roughly 90 billion neurons with trillions of connections, and none of them has any clue that he exists. And yet those cells come together to produce a steady stream of ill rhymes, laughs, and mind-blowing scientific findings. Come and find out how.
Sponsored by:
LAFAYETTE COLLEGE THEATER