When:
Saturday, July 15, 2017 - 11:00am
-
Saturday, August 19, 2017 - 4:30pm
Where:
Williams Visual Arts Building, Grossman Gallery
Presenter:
Community Based Teaching Program, Karl Stirner Arts Trail, Lafayette Galleries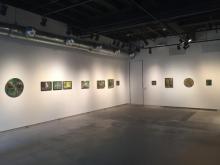 Open Spaces of Easton
An Exhibition celebrating the Karl Stirner Arts Trail and Easton Cemetery
Grossman Gallery, Lafayette College
The Karl Stirner Arts Trail, Lafayette College and the City of Easton are pleased to host Open Spaces, an exhibition celebrating the landscapes of the Karl Stirner Arts Trail and the Easton Cemetery in the Grossman Gallery at Lafayette College. Content takes inspiration directly from locations on the Karl Stirner Arts Trail or the Easton Cemetery.
The exhibition runs through August 19. Gallery hours 11:00 AM - 4:30 PM Tuesdays through Saturdays.
Exhibiting artists include:
Christina Wannachaiwong, Rose Mavis, JoAnn Piserchio, Carol Perlowski, Sandra Eliot, William Hudders, Vivan Noblett, Terry Newhard, Jackie Lima, Paul Barton, Diana Ogaard, Emily Ahn, Emily Strong, Cecily Moward, Don Wilson, Peter Sakievich, Yvette Hendler, Anne K Skorski Schneider, Danielle Flowers, Dorian Vallejo, Kelly Houghton & Donna Needs.
Contact information
Link for More Information: