When:
Wednesday, July 19, 2017 -

12:00pm

-

1:00pm
Where:
107 OCGE (Oechsle Center for Global Education)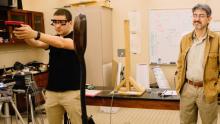 LAFAYETTE'S SUMMER RESEARCH SERIES
(Most Wednesdays this Summer)
PLEASE JOIN US!
WEDNESDAY, JULY 19: STUDENT RESEARCH PROJECTS
12:00 – 1:00 PM
107 Oechsle Center for Global Education
FOOD WILL BE SERVED
 (UNTIL SUPPLIES LAST)
You are invited to Lafayette's Summer Research Series.  On most Wednesdays this summer, faculty or students will give brief presentations related to their research.  For our next event, a panel of students will share their summer research projects with us – the goals, their roles and responsibilities, expected or obtained results, and future directions. Come learn, share, and ask about research at Lafayette!
Student Presenters:
Mary Cors '19 (Psychology) and Heather Keyser '18 (Psychology): "From Screen to Real Life: How Do Adult Co-viewers Help Young Children to Understand Video Communication?" (Faculty Mentor: Prof. Lauren Myers, Psychology)
Scott Berger '19 (Biochemistry): "Investigating the role of J-proteins in Hsp104-mediated curing of prion [PSI+]" (Faculty Mentor: Prof. Justin Hines, Chemistry)
Claudia Ki '19 (Biology) and Maya Stine '18 (Biology): "Inter and Intraspecific Brood Parasitism in the Eastern Bluebird and House Sparrow" (Faculty Mentor: Prof. Mike Butler, Biology)
Kamini Masood '19 (History): "The Emergence of Anti-Genderism in Central and Eastern Europe" (Faculty Mentor: Prof. Katalin Fabian, Government & Law)
Rachna Bal '19 (Chemistry): "Halide Loss in 1, 1' - Bis(ditert-butyl phosphino) Ferrocene Palladium dichloride" (Faculty Mentor: Prof. Chip Nataro)
HOPE TO SEE YOU THERE!
 Sponsored by the Office of the Provost & the Academic Research Committee
Sponsored by:
Office of the Provost/Academic Research Committee