When:
Wednesday, June 21, 2017 -

12:00pm

-

1:00pm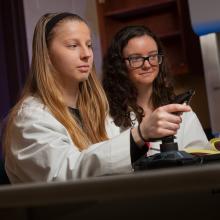 LAFAYETTE'S SUMMER RESEARCH SERIES
(Most Wednesdays this Summer)
PLEASE JOIN US!
WEDNESDAY, JUNE 21: STUDENT RESEARCH PROJECTS
12:00 – 1:00 PM
104 KIRBY HALL
FOOD WILL BE SERVED
(UNTIL SUPPLIES LAST)
You are invited to Lafayette's Summer Research Series.  On most Wednesdays this summer, faculty or students will give brief presentations related to their research.  For our next event, a panel of students will share their summer research projects with us – the goals, their roles and responsibilities, expected or obtained results, and future directions. Come learn, share, and ask about research at Lafayette!
Student Presenters:
Greg Shindel '19 (Computer Science): "Evaluation of Gene Name, Disease Name, and Drug Name Taggers for Biomedical Text Mining" (Faculty Mentor: Prof. Eric Ho, Biology)
Danya Kats '19 (Psychology), Emily Fidlow '19 (Psychology), Taylor Corsi '18 (Neuroscience & Women's & Gender Studies): "Pair Bonding in Zebra Finches" (Faculty Mentor: Prof. Michelle Tomaszycki, Psychology)
Nicole Wamser '19 (Chemistry): "Reactions of palladium compounds containing 1,1'-bis(diphenylphosphino)ferrocene" (Faculty Mentor: Prof. Chip Nataro, Chemistry)
HOPE TO SEE YOU THERE!
Sponsored by the Office of the Provost/Academic Research Committee

Sponsored by:
Office of the Provost/Academic Research Committee