When:
Tuesday, March 21, 2017 -

7:00pm

-

9:00pm
Where:
Landis Cinema, Buck Hall - 219 N 3rd St.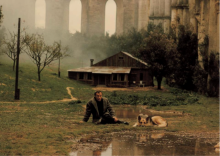 Nostalghia (dir. Andrei Tarkovsky, 1983, 125 min.) Filmmaker Ingmar Bergman named Andrei Tarkovsky the greatest of film directors, responsible for inventing "a new language" of cinema. Tarkovsky's Nostalghia follows the Russian poet Andrei Gorchakov, accompanied by guide and translator Eugenia, as he travels through Italy researching the life of an 18th-century Russian composer. In an ancient spa town, he meets the lunatic Domenico, who years earlier had imprisoned his own family in his house for seven years to save them from the evils of the world. Seeing some deep truth in Domenico's act, Andrei becomes drawn to him. In a series of dreams, the poet's nostalgia for his homeland and his longing for his wife, his ambivalent feelings for Eugenia and Italy, and his sense of kinship with Domenico become intertwined.
FACULTY FAVORITES FILM SERIES
Shuttle bus service to/from College Hill.
All are welcome. Open to the Public. Popcorn. Free.
Sponsored by the Andrew W. Mellon Foundation and Film & Media Studies
Sponsored by:
Andrew W. Mellon Foundation and Film & Media Studies
Contact information
Link for More Information: