When:
Wednesday, March 8, 2017 -

7:30pm

-

8:30pm
Where:
Landis Cinema - Buck Hall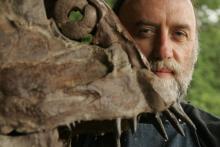 Presdential Entrepreneurship Lecture Series: The Scientific Surrealism of Ray Troll
All the Things I Didn't Learn in Art School but Really Should Have
Alaskan artist Ray Troll will share the twists and turns of his unique career and discuss the practical realities of making a living as a full time artist. Ray will discuss topics like copyrights, royalties, licensing artwork, contracts, museum exhibits, public art commissions and book publishing, sharing tips he's learned from a lifetime of working in the arts.
Ray moved to the Northwest in the late 1970's and eventually on to Alaska in the early 80's with a couple of art degrees in his back pocket and a life long interest in natural history. He settled in the rain-swept, coastal town of Ketchikan and began producing offbeat fish-filled T-shirts that soon gained him an audience with cannery workers, anglers, commercial fishers and scientists. His art has toured in exhibitions at major museums across the United States and overseas.
He has co-authored and illustrated 9 books including the popular "Cruisin' the Fossil Freeway", a fun filled romp through the American west with paleontologist Kirk Johnson. Ray also wrote and illustrated a unique alphabetical children's book of living and prehistoric sharks called "Sharkabet". In 2011 he and Kirk Johnson were awarded Guggenheim fellowships to support their collaborative work on a forthcoming book entitled "Cruisin' the Eternal Coastline: the Best of the Fossil West from Baja to Barrow."
He is also an avid musician on the side and has released a couple of CDs with his band the Ratfish Wranglers. You can find out more about Ray by visiting his website at http://www.trollart.com/ 
Sponsored by:
The Office of the President, Arts Infusion Initiative, CaPA, Geology & Environmental Geosciences, Art