When:
Tuesday, January 24, 2017 (All day)
-
Saturday, February 25, 2017 (All day)
Where:
Grossman Gallery, Williams Visual Arts Building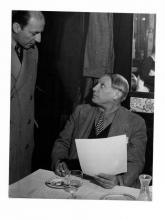 Focus III:  Photographer and Subject
January 24–February 25, Grossman Gallery

Focus III: Photographer and Subject celebrates a transformative gift of more than 1,200 photographs to the Lafayette art collection from Bennett J. '79 and Meg Goodman. The Goodman Collection consists of works by more than 35 nineteenth–through twenty-first–century photographers, both famous and anonymous. This gift enriches the existing photograph collection, enhances the teaching mission of the art collection, and provides opportunities for interdisciplinary learning across campus.
Lafayette faculty Karina Skvirsky (Art), Greta Brubaker (Art), and Alessandro Giovanelli (Philosophy) selected portraits to complement courses they are teaching in the spring 2017 semester:  "Digital Photography I" (Art 155, taught by Professors Skvirsky and Brubaker) and "Philosophy of Art: Focus on Faces" (Philosophy 240, taught by Professor Giovannelli). They chose images that illustrate different types of interaction between the photographer and the subject: from street and documentary photography and candid images in which the subject is neither posed nor aware of the photographer, to posed and studio portraits in which there is a direct relationship between photographer and subject.
Photographers selected for Focus III include: Bill Brandt, Brassaï, Henri Cartier-Bresson, Mike Disfarmer, Ken Heyman, Jacques Lowe, Danny Lyon, Joel Meyerowitz, Arthur Rothstein, Lou Stoumen, and William Witt. Some photographers are represented by a single image; multiple images by other photographers allow for a fuller examination of an individual's style and technique.
Professors Skvirsky, Brubaker, and Giovanelli will discuss the selection of images in a "brown bag" presentation on Monday, Feb 6, noon, Williams Center 108.
Sponsored by:
Lafayette Art Galleries and Art Collections