When:
Sunday, February 5, 2017 (All day)
-
Sunday, March 26, 2017 (All day)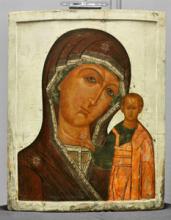 Icons of the Eastern Orthodox Christian church are sacred objects used both in church rituals and in individual worship. The human form portrayed in an abstract manner is intended to accentuate the spirituality and sacred character of the holy figures depicted. Intended to enable transcendence from the terrestrial into the heavenly sphere, the icons serve as instruments of devotion by evoking the presence of the holy for the faithful. These icons—a collection from Eastern Europe dating from the 16th century to the present—are also aesthetically pleasing objects, intricate in design and superior in execution.
Curator, Ida Sinkevic, department of Art
Contact information
Name:
Michiko Okaya, Ida Sinkevic
Email:
artgallery@lafayette.edu sinkevic@lafayette.edu
Link for More Information: