When:
Monday, March 27, 2017 -

7:00pm

-

9:00pm
Price:
Free and open to the public; Q&A, reception and book signing to follow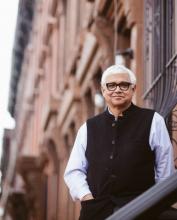 Acclaimed author Amitav Ghosh will discuss his latest book, The Great Derangement: Climate Change and the Unthinkable, as the 2017 Jones Visiting Lecturer. It is a work of nonfiction that examines our inability—at the level of literature, history, and politics—to grasp the scale and impact of climate change.
Amitav Ghosh was born in Kolkata and grew up in India, Bangladesh and Sri Lanka. He studied in Delhi, Oxford and Alexandria and is the author of The Circle of Reason, The Shadow Lines, In An Antique Land, Dancing in Cambodia, The Calcutta Chromosome, The Glass Palace, The Hungry Tide and The Ibis Trilogy consisting of the novels Sea of Poppies (2008), River of Smoke (2011) and Flood of Fire (2015). His most recent book is a work of non-fiction, The Great Derangement: Climate Change and the Unthinkable.
The Circle of Reason was awarded France's Prix Médicis in 1990, and The Shadow Lines won two prestigious Indian prizes the same year, the Sahitya Akademi Award and the Ananda Puraskar. The Calcutta Chromosome won the Arthur C. Clarke award for 1997 and The Glass Palace won the International e-Book Award at the Frankfurt book fair in 2001. In 2005 The Hungry Tide won the Crossword Book Prize, and in 2008 Sea of Poppies was shortlisted for the Man Booker Prize, and was awarded the Crossword Book Prize and the IndiaPlaza Golden Quill Award.
Amitav Ghosh's work has been translated into more than thirty languages and he has served on the Jury of the Locarno Film Festival (Switzerland) and the Venice Film Festival (2001). Amitav Ghosh's essays have been published in The New Yorker, The New Republic and The New York Times. His essays have been published by Penguin India (The Imam and the Indian) and Houghton Mifflin USA (Incendiary Circumstances). He has taught in many universities in India and the USA, including Delhi University, Columbia, Queens College and Harvard. 
In January 2007 he was given the Padma Shri, one of India's highest honours, by the President of India. In 2010, Amitav Ghosh was awarded honorary doctorates by Queens College, New York, and the Sorbonne, Paris. Along with Margaret Atwood, he was also a joint winner of a Dan David Award for 2010. In 2011 he was awarded the Blue Metropolis Prize in Montreal.
For more information: http://www.amitavghosh.com