When:
Thursday, November 10, 2016 -

4:30pm

-

6:00pm
Where:
104 Kirby Hall of Civil Rights
Presenter:
Ian Smith, Professor of English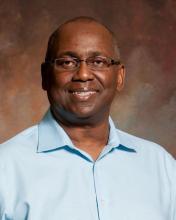 Professor Ian Smith, the newly-named Sell Chair in the Humanities, will deliver both the Sell Chair Inaugural Lecture and Skillman Library's Schlueter Lecture on November 10. His talk will focus on Shakespeare's relevance for today when the thesis of a post-racial, colorblind America has been challenged by the brutal reality of multiple deaths of unarmed black civilians, forcing an inquiry into the postracial myth's own premise as complicit with the politics of white privilege. Smith will use the example of Othello's dying speech to initiate a dialogue about Shakespeare and race that sustains the vital connections among the world, the text, and the responsible reader.
Sponsored by:
Paul and June Schlueter Lecture in the Art and History of the Book; Richard H. Jr. '60 and Joan K. Sell Chair in the Humanities Inaugural Lecture