When:
Friday, September 9, 2016 -

7:00pm

-

9:00pm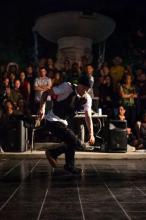 Featuring the internationally known b-boy crew Lionz of Zion, Dark Matter is an outdoor street performance in which multimedia artist Jefferson Pinder examines 21st-century social conflicts of race, violence and control through break dance. This performance uses break dancing and strong crowd control lighting as a subversive metaphor for the opposing forces of rebellion and suppression, bringing new focus and meaning to the b-boy phrase "battling."
Break dance has always had a political element and this performance demonstrates how aggressive and powerful movement can communicate the underlying tension present in power struggles throughout the country and the world. 
 This performance is incredibly relevant at this moment in our history. As part of the show, Pinder will hold a Q&A session to discuss reactions to the work, as we all wrestle with contemporary uprisings and the forces that seek to control them. Art can be a vehicle for community understanding and healing.
The event will also include a September 9 (noon-  1 pm) Panel Discussion featuring performance artist Jefferson Pinder, Lafayette Professor of Art Curlee Holton, and Lafayette Professor of Art Nestor Gil.

Dark Matter(s) is sponsored in part by Choreographers on Campus, a Lafayette College initiative funded by the Andrew W. Mellon Foundation. Dark Matter is organized by the David C. Driskell Center for the Study of African America Art and the African Diaspora at the University of Maryland in collaboration with The Phillips Collection.
FREE and Open to the Public
Sponsored by:
Choreographers on Campus, The Andrew W. Mellon Foundation
Contact information
Link for More Information: