When:
Tuesday, April 5, 2016 -

12:15pm

-

1:00pm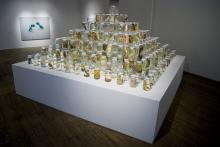 Join artist and biologist Dr. Brandon Ballengée for an illustrated presentation of his artwork and research focused on the 2010 Deepwater Horizon (DWH) oil spill's impact to Gulf of Mexico biodiversity.
The DWH spill was the largest industrial petrochemical accident in the history of the United States and, because the spill occurred in the deep sea, its impact on the biota has been difficult to assess. The Gulf of Mexico is among the most important and biologically diverse marine environments in the world with an estimated 600-1000 species of fishes (77 of which are endemic) and new species being described every year. Likewise, Gulf seafood is an important source of food for millions of people in North America, and, as marine species migrate following the Gulf Stream, people throughout Europe rely on these fish for protein. As such, the DWH spill could not have occurred at a worse place, from an ecological and economic standpoint. A recent United States Congressional Report estimates that, after clean up efforts, almost half the oil (over 100 million gallons) remains in the Gulf and the long-term magnitude of the spill is not well understood. 
Artist, biologist and environmental educator, Brandon Ballengée creates transdisciplinary artworks inspired from his ecological field and laboratory research. Since 1996, a central investigation focus has been the occurrence of developmental deformities and population declines among amphibians and other ectothermic vertebrates. Currently he is a Postdoctoral Researcher in the Biological Sciences Department at Louisiana State University studying the impact on fishes from the 2010 Gulf of Mexico oil spill. 
Image: Collapse, 2010-12, mixed media installation. Collapse consisted of more than five hundred large specimen jars with preserved fish, aquatic organisms, and Deep Water Horizon contaminates stacked into a pyramid. It was meant to recall the fragile intertrophic relationships between Gulf species and the way that the spill is changing this. There were 26,162 individual specimens in Collapse. Even at this scale, it was barely a sketch or literally less than five percent of the known Gulf species. Scattered among the specimens, empty containers represented species in decline; visually, this was a way to frame absence and suggest a future large-­scale Gulf ecosystem collapse.
Contact information
Link for More Information: