When:
Wednesday, March 30, 2016 -

7:00pm

-

8:30pm
Presenter:
Ambassador Lakhdar Brahimi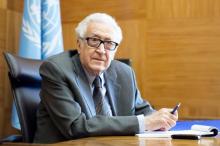 Lakhdar Brahimi is an Algerian United Nations diplomat who served as the United Nations and Arab League Special Envoy to Syria from 2012 to 2014. He was the Minister of Foreign Affairs of Algeria from 1991 to 1993.
Ambassador Brahimi is a member of The Elders, an independent group of global leaders working together for global peace and human rights. He is also a member of the Commission on Legal Empowerment of the Poor, a global initiative that focuses on the link between exclusion, poverty and law. He is also a member of the Global Leadership Foundation, an organization which works to promote good governance around the world. He is a distinguished senior fellow at the Centre for the Study of Global Governance at the London School of Economics and Political Science, and a governing board member of the Stockholm International Peace Research Institute. Ambassador Brahimi is currently serving as the Practitioner-in-Residence at the Einaudi Center for International Studies at Cornell University.
Sponsored by:
​​​​​Robert ('69) and Margaret Pastor Lecture in International Affairs
Contact information
Name:
David Stifel, International Affairs