When:
Monday, February 15, 2016 -

7:30pm

-

8:30pm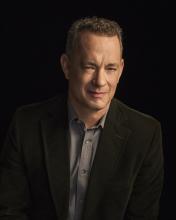 Actor and producer Tom Hanks will be on campus for an informal interview with President Alison Byerly and Donald L. Miller, John Henry MacCracken Professor of History. Hanks and Miller have worked together on several WWII-related projects, including an upcoming HBO miniseries based on Miller's bestselling book, Masters of the Air. The event is scheduled for 7:30 p.m., Monday, Feb. 15, in Kamine Gym, Kirby Sports Center.
Regrettably, there are no more tickets available. Seating is limited to 1,700 attendees for this free event, and Lafayette students, faculty, and staff were given first opportunity to order tickets.
The event will also be live streamed to Colton Chapel, near South College Drive, which seats 600. (No permission has been given to live stream the event off campus as this is a personal visit rather than a media appearance.) No tickets are required for the Colton Chapel venue.
Hanks' most recent film, Bridge of Spies (2015), is the true story of a lawyer charged with negotiating the release of a U-2 spy plane shot down over the Soviet Union in exchange for a KGB spy. It just received Oscar nominations for Best Picture and Best Original Screenplay. He holds the distinction of being the first actor in 50 years to be awarded back-to-back Best Actor Academy Awards: in 1993 as the AIDS-stricken lawyer in Philadelphia and the following year in the title role of Forrest Gump. He also won Golden Globes for both of these performances, along with his work in Big and Cast Away. He's also well known for his roles in Splash, Apollo 13, Saving Private Ryan, You've Got Mail, The Green Mile, and Captain Phillips, as well as for his voice work in the animated films The Polar Express and the Toy Story series.
HBO is currently developing a dramatic miniseries produced by Hanks and Steven Spielberg and based on Miller's bestselling book, Masters of the Air: America's Bomber Boys Who Fought the Air War against Nazi Germany (2007). The series will tell the engrossing personal stories and exploits of the men who flew with America's famed Eighth Air Force over Nazi-­occupied Europe.
Miller is widely acclaimed for his books on World War II.  He previously worked with Hanks and Spielberg as a historical consultant for the ten-part HBO series The Pacific (2010), which won eight Emmy Awards, including Outstanding Miniseries.  He was also the on-camera historian, writer, and chief consultant for the series' accompanying documentary. Miller served as co-producer and co-creator, with Hanks, on He Has Seen War, a 2011 HBO documentary on World War II troops returning home.
Miller's other WWII books are D-Days in the Pacific and The Story of World War II. He is the New York Times bestselling author of nine books, including Supreme City: How Jazz Age Manhattan Gave Birth to Modern America; City of the Century: The Epic of Chicago and the Making of America; and Lewis Mumford, A Life, a New York Times Notable Book. His next book will be The Siege: Vicksburg and the Crisis of the Confederacy.
Contact information
Link for More Information: