When:
Friday, October 16, 2015 (All day)
-
Saturday, December 19, 2015 (All day)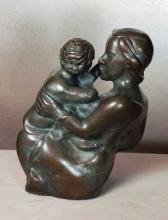 Most artists will affirm that collectors play an indispensable role in their life and career. This is true both with respect to supporting the work of an emerging artist or established artists seeking broader recognition. Those private collectors and patrons with a passionate belief in the transformative power of the creative enterprise are a rare breed, and in the case of their support of African American artists, they often make the difference as to whether voices of color are heard among the larger chorus of artists in the art world.
In the Line of Duty presents a selection of paintings, works on paper, and sculpture from the William C. Robinson Family Collection of African American Art.
Sponsored by:
Lafayette Art Galleries and EPI