When:
Thursday, October 1, 2015 -

7:00pm

-

9:00pm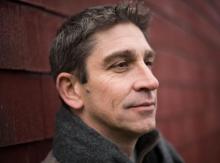 The Hispanic Society of Lafayette and Intercultural Development are pleased to present Richard Blanco as a 2015 Keynote speaker for Hispanic Heritage Month. Selected by President Obama as the fifth inaugural poet in U.S. history, Richard Blanco joined the ranks of such luminary poets as Robert Frost and Maya Angelou. The youngest, first Latino, immigrant, and gay person to serve in such a role, he read his inaugural poem, "One Today," at the official ceremony. In his first prose publication, For All of Us, One Today: An Inaugural Poet's Journey, Blanco shares the details of his experiences.
Blanco was made in Cuba, assembled in Spain, and imported to the United States, meaning that his mother, seven months pregnant, and the rest of the family arrived as exiles from Cuba to Madrid, where he was born. Only forty-five days later the family emigrated once more and settled in Miami, where he was raised and educated. The negotiation of cultural identity and universal themes of place and belonging characterize his three collections of poetry: City of a Hundred Fires, Directions to The Beach of the Dead, and Looking for The Gulf Motel. His literary awards include: the Agnes Starrett Poetry Prize from the University of Pittsburgh Press, the Beyond Margins Award from the PEN American Center, the Patterson Poetry Prize, the 2013 Maine Literary Award for Poetry, and the Thom Gunn Award.
In addition, Blanco's poems have appeared in the Best American Poetry and Great American Prose Poems series, the Nation, and the New Republic. He has also written and preformed occasional poems for organizations such as the Boston Strong Benefit Concert, Freedom to Marry, the Fragrance Awards, and the Tech Awards in Silicon Valley. He has been featured on CBS Sunday Morning, National Public Radio's All Things Considered and Fresh Air with Terry Gross, as well as major media from the U.S. and around the world, including CNN, Telemundo, AC360, BBC, Univision, and PBS.
A builder of cities as well as poems, Blanco holds a B.S. in Civil Engineering and an M.F.A in Creative Writing. He is a Fellow of the Bread Loaf Writers' Conference, a Woodrow Wilson Visiting Fellow, and has received honorary doctorates from Macalester College, Colby College, and the University of Rhode Island. He has taught at Central Connecticut State University, Georgetown University, and American University. Blanco currently lives in Bethel, Maine. A memoir of his childhood in Miami, The Prince of Los Cocuyos, is forthcoming this fall by Ecco/Harper Collins.
Sponsored by:
Hispanic Society of Lafayette and Intercultural Development
Contact information
Link for More Information: