When:
Tuesday, October 7, 2014 -

7:30pm

-

9:00pm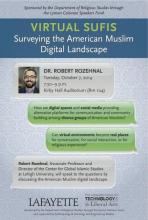 In this lecture, Professor Robert Rozehnal explores cyberspace as an alternative platform for communication and community building among diverse groups of American Muslims. He documents how the current generation of American Muslims uses the Internet to expand networks, rethink tradition and refashion identity. Drawing on ethnographic fieldwork and textual analysis, he focuses on prominent orders of Muslim mystics, or Sufis, in the United States. Given that Sufism traditionally highlights a personal connection with a spiritual teacher, is it possible for Sufis to create a religious community online in the absence of that direct, face-to-face connection? More broadly, can virtual environments become real places for conversation, for social interaction or for religious experience?
Professor Robert Rozehnal is Associate Professor and Director of the Center for Global Islamic Studies at Lehigh University. As an Islamicist and a South Asianist, Rozehnal has focused on the history and practice of Islam within Pakistan and India, with a particular emphasis on Islamic mysticism (Sufism). Recipient a two year "New Directions" fellowship from Lehigh's College of Arts and Sciences (2013-2015), his current research examines Virtual Sufis in the United States. He has traveled widely in the Muslim world, with extended periods of study and fieldwork research in Egypt, Iran, Turkey, Pakistan, India and Malaysia. At Lehigh, Professor Rozehnal teaches a variety of classes on Islam and comparative South Asian religions.
Sponsored by:
Religious Studies through the Lyman Coleman Fund, supported by Anthropology & Sociology and Engineering Studies