When:
Tuesday, November 16, 2010 -

8:00pm

-

10:00pm
Where:
Williams Center for the Arts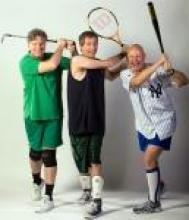 The clown princes of physical theater return to the Williams Center stage with a brand new "laugh-a-minute" roller coaster ride, themed to America's insatiable passion for sports—ALL sports. Don't miss this savvy send-up of ESPN, "SportsCenter," and the wacky world of sports. Sprint through the sporting world at record-breaking speed without breaking a sweat.
From the earliest cavemen playing "Neanderthal in the Middle" to your own kid's soccer practice, the entire history of athletic competition will be regurgitated in a Tour de France of physical theater, with the sophistication and pathos that only the RSC can muster.
Contact information
Email:
williamscenter@lafayette.edu