Franz Kline: Coal and Steel
When:
Friday, February 8, 2013 (All day)
to
Friday, March 8, 2013 (All day)
Where:
Baruch College, Mishkin Gallery 135 E. 22nd Street, New York, NY Gallery Hours: Monday through Friday, noon to 5 p.m. and Thursday, noon to 7:00 p.m.
Presenter:
Professor Robert S. Mattison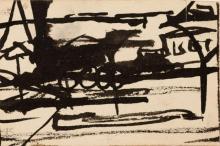 Baruch College presents the exhibition Franz Kline: Coal and Steel at the Mishkin Gallery from Friday February 8 to March 8, 2013. Franz Kline (1910-1962), one of the most famous painters of the mid-twentieth century, is well known for his large, abstract, black and white paintings. However, his early representational work is almost unknown. Franz Kline: Coal and Steel specifically focuses on Kline's progression from representation to abstraction by emphasizing his early work, and the prominence of his often overlooked use of coal mining imagery throughout his career. Franz Kline: Coal and Steel features 49 paintings and drawings by Franz Kline, along with supplementary photographs, graphic works, and other documentary materials. There are several works on loan from the National Gallery of Art, Washington D.C., along with rarely seen paintings belonging to private collectors. Works in the exhibition include Chief (Train) (1942),Street Scene Greenwich Village (1943), Self-Portrait (1946), Pennsylvania Landscape (1948-49), and Study for Caboose (1961), among others. In addition, this exhibition includes several documentary photographs of Pennsylvania anthracite mines and miners by photographer George Harvan. His photographs provide a clear, visual record of the type of environment—the coal chutes, trains, and smokestacks—with which Kline would have been familiar. The Mishkin Gallery, located at 135 E. 22nd Street at Lexington, is free and open to the public. For information about the gallery, call Sandra Kraskin at (646) 660-6652.